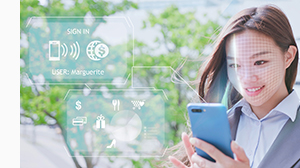 As one of the most popular products of Tradelink's fast-growing identity management business, our eKYC solution has gained the support of a virtual bank and an insurance company as our first customers in these two business segments using our eKYC solution for digital customer onboarding.
To keep pace with the latest technologies and market development, our solution enables our clients to conduct a comprehensive background check on their customers for account opening covering the whole process, from identity document verification to facial recognition, all being carried out on the applicant's own mobile device anytime, anywhere. Through successful research and development, our solution also supports the new Hong Kong smart identity card, embedding more advanced and sophisticated security features.
Our solution not only provides a more convenient and secure user experience for customer onboarding, but also helps our clients cut administrative expenses. Our client portfolio has expanded from traditional banks and stock brokers to include virtual banks and insurance companies. Coupled with the latest guidelines on two factor authentication requirements for remote onboarding issued by regulators, we expect more opportunities from a growing demand from wider target customer segments including licensees of Stored Value Facilities.